aircraft countermeasures safer."/>
YOKOTA AIR BASE, Japan — Airmen may have an easier time loading chaff and flare cartridges for Air Force aircraft thanks to a device created by a former ordnance inspector at this transport center aerial view of western Tokyo.
Senior Airman Michael Henderson, now at Cannon Air Force Base, NM, but formerly of Yokota's 374th Air Wing, said he invented the "Hendy cradle" to make handling aircraft countermeasures more sure.
"I love seeing the progress the cradle is making," he told Stars and Stripes via email on Sept. 28. really work hard to move the cradle forward.
YokoWERX is an innovation lab in Yokota with dedicated staff to help grassroots community members with technical issues.
The Hendy Cradle stores chaff and flare canisters which are used as defensive countermeasures to confuse or mislead enemy anti-aircraft missiles guided by radar or aircraft heat signature. Henderson proposed his idea in November 2020, the design phase began in December 2020 and the prototype was made in January 2021.
Now the Hendy is in the testing phase at YokoWERX. After years of work on the project, the team hopes to have the device in use in Yokota by the end of the year and throughout the Air Force within the next two years, Tech Sgt. Nick Richards, a YokoWERX quality assurance inspector, told Stars and Stripes on September 20.
Innovators and inventors can bring their ideas to YokoWERX where a team of Air Force volunteers and civilians can bring them to life, said the wing's chief innovation officer, said Master Sgt. . Sarah Hubert.
"YokoWERX is really where you go on base where innovation meets the Air Force that you might not be able to find in your regular work center due to restrictions," she said on September 20. "We help to remove some barriers and get your ideas not only at the Yokota support level, but also at the Air Force level support.
Airman 1st Class Donald Manunta-Lowell, who loads planes with rocket and chaff countermeasures, helps test the Hendy cradle by loading it onto trucks, letting it shake and exposing it to the conditions of work.
After working first-hand with the Hendy, Manunta-Lowell said ammunition loaders would benefit from its use.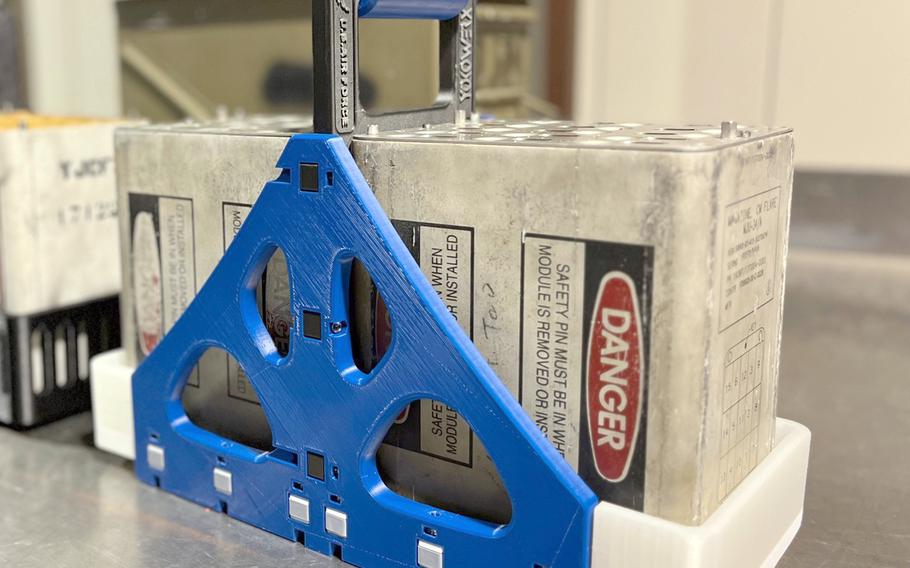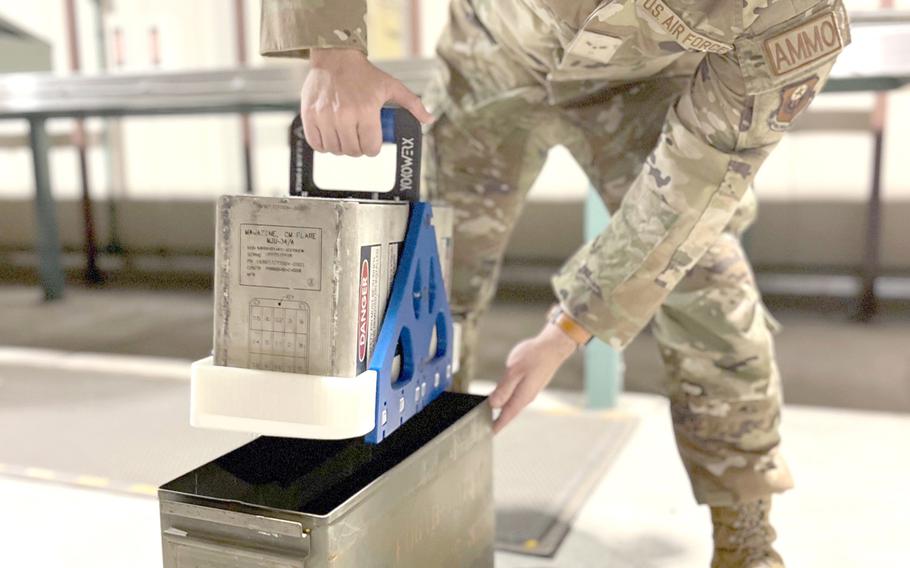 "I'm someone who would benefit from it, using it would make my work life easier, it would allow us to do our jobs faster and more safely," he told Stars and Stripes on Sept. 20.
Countermeasures are usually stored in ammo trailers, but Yokota has none. So they stored and transported the countermeasures using empty 20mm ammunition boxes, which are padded with pieces of foam, cardboard or other non-conductive material, ensuring that the countermeasures do not touch each other during transport.
"I think everyone is looking forward to this," Manunta-Lowell said. "Everyone comes in here and deals with these cans on a regular basis to get them in and out and everyone thinks it's a bit of a hassle. So it's a huge deal for everyone."
YokoWERX testing found that loading canisters with the Hendy cradle took about 10 seconds, compared to 44 seconds with the existing method.
The Hendy can carry at least 200 pounds of weight, Hubert said.
Richards said he was trying to make a version that costs $64 per unit to produce. Each Hendy crib requires 50 to 60 hours to manufacture on a 3D printer.
Instead of selling the idea to a contractor or a company, Richards says he wants to give the instructions on how to print the parts for the Hendy, so Air Force Innovation Labs can make it. the cradle.
"I didn't realize how much YokoWERX could help make the idea a reality at first," Henderson said. "As soon as I explained my idea, everyone at YokoWERX worked together to bring the crib to life exactly as I imagined it in my mind."